Roof Moss Removal East Sussex
Roof moss can cause real problems to your roof. Moss thrives in a damp, shady environments and often occurs on the north side of a roof since it receives the least amount of sun or under overhanging trees that provide shade. Moss and lichen growth looks unsightly and can detract from the appearance of your home plus over time, roof moss will loosen and degrade roof tiles potentially causing roof leaks.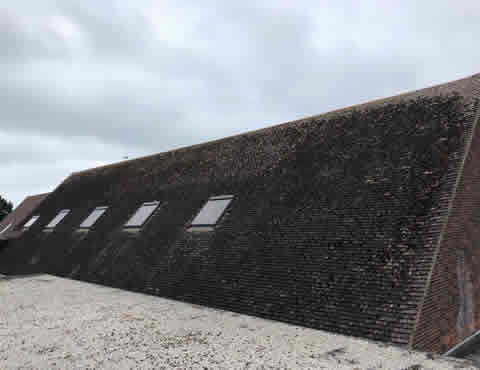 Much like weeds on your driveway, roof moss growth can cause loose ridge caps, cracks in mortar and can even break tiles. When moss gets out of control it can also block your gutters and down pipes. But don't worry Moss Busters can help.
Our experts will deal with roof moss quickly and effectively and at an affordable price. No need to risk your own safety getting up on the roof - contact Moss Busters today!